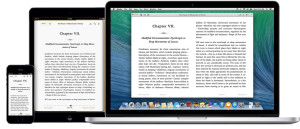 An incredibly fast growing mode of publishing is ebooks (electronic books).
With so many people owning iPads, Kindles and other tablets there are more people switching from traditional paper books to electronic iBooks.
In business this enables paper manuals and training packages to be developed in electronic formats which are cheap to reproduce and able to be distributed easily.
An iBook is an electronic book format specific to the iPad and Apple computers.  iBooks can contain multimedia (slideshows, presentations, movies) and interactive features (quizzes, 3D models) as well as text, making it an ideal format for distributing training material to iPad users.
Contact me if you want an iBook created or have staff orientation material, manuals or training that you want to upgrade into an iBook format for your workplace.